Let's Create Our Next Normal Together



People across our industry share a first-hand understanding of life on the front-line of an unprecedented global crisis. From suppliers to warehouse staff and delivery drivers, from owner managers to restaurant crews, we are all sharply aware of what a profound impact the COVID-19 pandemic has had on the world.
Without doubt, the worldwide shutdown has tested the industry's resilience and operating models to the limit. But the good news is that our sector is now starting to look beyond the crisis towards recovery. Although different countries are at different points along the recovery curve, there is an emerging consensus that the toughest days of the crisis are now behind many of us.
Which raises some fundamental questions. Such as: what will the next normal look like – and how do we prepare for it?
LEADING THE CONVERSATION
HAVI is well placed to lead the conversation about what it will take to collectively build a safe and sustainable post-pandemic future for our industry. With this objective in mind, we have launched the Next Normal campaign, an initiative designed to generate the shared insights and actions that our sector needs to restart and ramp up.
Of course, we are aware that recovery will be a joint effort with the emphasis on collaboration. Accordingly, our approach to defining the next normal is about looking ahead, offering support, sharing knowledge, and guiding our customers and the industry beyond shutdown. The idea is to nurture a positive attitude and practical mindset while staying grounded in proven insights, experience – and our current realities.
HAVI EXPERTS SHARE THEIR TIPS
To start the conversation with you, HAVI's industry experts have drawn up a tip sheet that offers practical, grounded guidance on the best way to plan and execute a successful reopening. The guidance falls into three business-critical areas: restarting your business, securing supply and ensuring safety.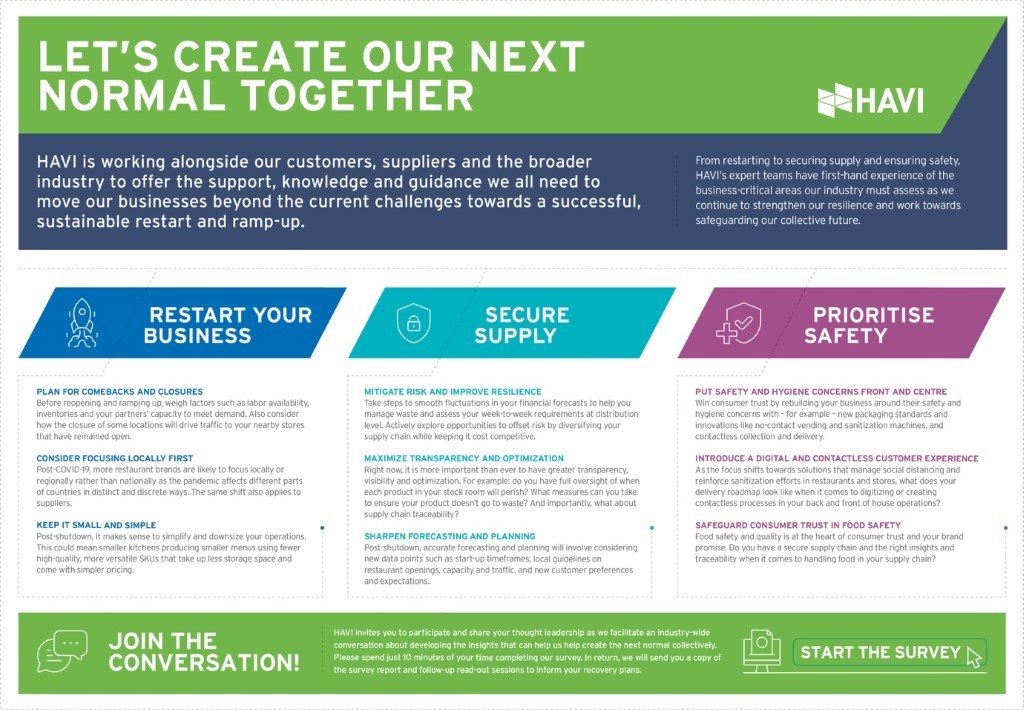 You are welcome to access the tip sheet here.
TAKE THE SURVEY. VIEW THE RESULTS. SECURE OUR FUTURE
We would be honored if you shared your own insights into what makes for a successful restart by completing our survey. After all, sharing our experiences and insights will be essential to strengthening our resilience and safeguarding our collective future. In other words: let's create the next normal together!
LINK TO 10 MINUTE SURVEY. DEADLINE FOR SUBMISSIONS: 22 MAY 2020