Earlier this year, HAVI carried out a survey asking key industry players what they expect our industry's next normal will look like. The survey was part of our efforts to kick-start an industry-wide conversation about how to build a safe, sustainable future for our sector.
We are now inviting you to read the survey results for yourself and add your voice to the next normal conversation.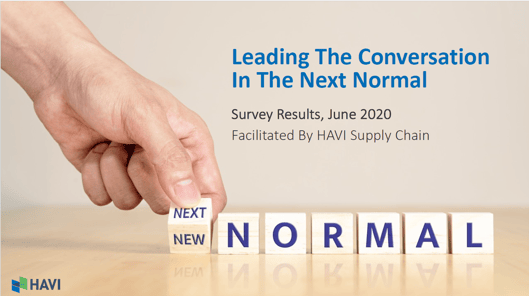 The survey targeted supply chain managers, procurement specialists, and marketing professionals in our customers' businesses, plus contacts in the broader industry. We were particularly keen to capture their insights into restarting operations, securing supply, and prioritizing safety. 
The number of people who took part in the survey was highly encouraging and their answers to our questions make instructive reading. On a positive note, for example, 70% of respondents told us that they either have a re-opening plan in place or under development. Just 6% said they have not yet started. At the same time, many agreed that the outlook is very uncertain and unpredictable, and anticipate that consumer behavior linked to spending habits or health trends will remain challenging.
We strongly believe that the best way to meet such challenges and safeguard our collective future is through sharing and collaboration. That's why we will continue to offer support, knowledge and guidance to our customers, suppliers and the broader industry as we move towards a successful, sustainable restart and ramp-up.
With recovery in mind, we are also inviting you to download our next normal tip sheet. It includes grounded, practical guidance on restarting and ramping up your business; securing your supplies; and ensuring safety – the three business-critical areas covered by our survey.