Food delivery apps expand our in-home dining options… and a restaurant's customer base.
The Food Delivery App Advantage: Who Uses Them and How to Attract Those Consumers
Today, innovation in the restaurant industry is happening during every facet of the user experience, even when your customers don't interact directly with you. Food delivery platforms are having significant success as third-party delivery services for many types of restaurants.
Traditionally, hungry consumers could only order pizza and Chinese food from the comfort of their own homes and offices. With the proliferation of the mobile phone and rapid innovation in mobile application technology, food delivery apps – from startups like Seamless, GrubHub and DoorDash to giants like Amazon and UberEATS – have made a wide variety of cuisine available for consumers.
The benefits of partnering with these delivery apps are plentiful: it gives restaurants new revenue opportunities, introduces their food to new consumers and gives loyal fans another way to enjoy their favorite restaurant's meals.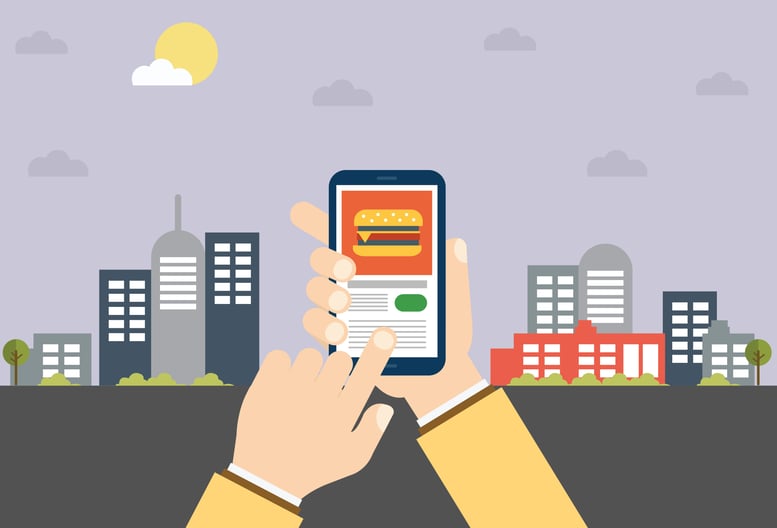 Here are three unique customer profiles that use food delivery apps frequently, and ideas for how to appeal to them with marketing promotions.
The time-crunched executive. This customer doesn't have the luxury of eating out at a restaurant during the lunch hour, or even waiting in line and ordering it to-go. Busy executives with a day full of meetings often only have enough time to actually eat, and will turn to an app to take care of the rest.
Reach this customer by promoting filling lunchtime specials that provide that energy boost needed to get through the afternoon.
The on-the-go parent. For many working parents or those with children who are busy with sports and other activities during the week, preparing dinner at a decent hour can be difficult. When there's only 20 minutes to get a balanced dinner on the table for the family, this customer will pay a premium for the convenience afforded by a delivery app.
Appeal to this customer by offering family-style value meals to serve a group.
The early tech adopter. We all have that one friend or co-worker who is the first to adopt the latest gadget – and using a food delivery app is no exception. This customer was one of the first to use a ride-sharing app like Uber, takes advantage of grocery apps for extra savings and most likely has the latest iPhone or Android phone.
Attract the early adopter by offering them VIP access to special deals and other perks.
Questions to ask yourself first
Which strategy makes sense for my business? Just because partnering with delivery apps is successful for one restaurant doesn't mean it's a fit for all. Consider your own goals to determine if you should create your own mobile-enabled delivery service, partner with one or more delivery services, or not enter the market at all.
Which apps fit our brand promise? Delivery apps are a reflection of your restaurant's brand, so each app's customer satisfaction, business model, and overall image should be considered when choosing which providers would make good partners.
Should my menu change? Because restaurants must split some of the profits with the delivery service, it might make sense to offer limited menu items via the app. This would be easier on the kitchen staff and ensure only items with readily available, economical ingredients are offered through the app. Restaurants should also consider which menu items best represent their brand and, most importantly, travel well. High-quality food is expected when customers are paying a premium.
How can we utilize this new communication channel? Delivery apps make it easy for its users to rate restaurants and give reviews of the food they order, making it a seamless part of the user experience. Smart marketers pay attention to this feedback and use it to improve their processes and menus and drive up their ratings over time.
Utilizing a food delivery app can be a great source of revenue for restaurants. Even though this customer base isn't as visible as others, it should be far from an afterthought for smart marketers.