Tracking the HAVI Journey to the Innovative SIX500® Product
Accelerated Cooking Packaging Breakthrough: Fill, Cook and Serve
What does it take to bring innovation to food packaging?
When it comes to a product strong enough to withstand the extreme heat of accelerated cooking within commercial kitchens, the answer starts with identifying a clear market gap.
In this case, it also took a renowned culinary innovator, a host of senior engineers, a chef-driven test team, component chemical analysis, thousands of test trials, and a strong will to succeed. We're happy to take you behind the scenes of the three-year collaboration between HAVI and leading foodservice equipment and solutions provider, Welbilt, to develop a portfolio of oven-to-table food packaging trays and bowls.
First, a Little Context
The market for fast, fresh, and convenient food is on an explosive trajectory. From "almost homemade" pre-prepared meals to upscale quick service restaurants, your guests want (and are willing to pay extra for) tasty options that don't take a lot of time or energy.
Super-hot, rapid-cook ovens can speed up your service or delivery time. The packaging challenge faced with accelerated cooking ovens is the variety of methods they use: steam, convection, microwave and top and bottom heat. With ready-to-serve food, you need a tray or bowl that can work in any or all of these oven types. And you need one that doesn't burn, fall apart, stick to the food or impart flavors.
For years, HAVI's suppliers and partners in the foodservice and packaging industries expressed a desire for packaging that met all these criteria, to no avail. The idea took root, and HAVI joined forces with Welbilt to develop a first-of-its-kind product. Read the full case study for all the details.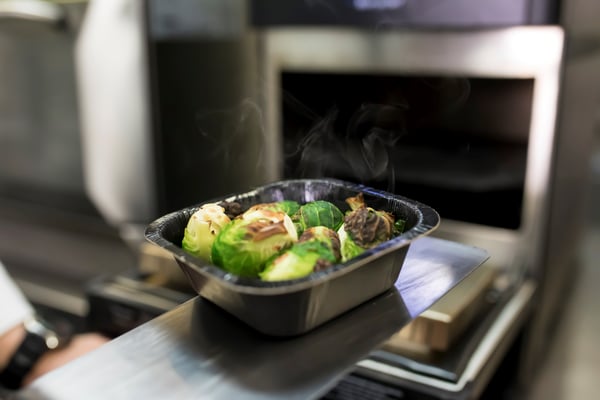 Chef-Inspired, Chef-Tested
If necessity is the mother of invention, Welbilt's former Director of Culinary Innovation, Chef Alison Cullin-Woodcock provided the inspiration behind the development journey. She is a leading food innovation specialist whose career highlights include product and menu ideation, new category extension, and future product demand based on culinary and beverage innovation.
Cullin-Woodcock's front-line experience and insights were critical to the success of the product development and launch. She knew first-hand the frustration of not having any form of packaging that could go straight from commercial ovens directly to the end customer. She says, "It was almost asking the impossible for a small piece of paperboard not to catch fire, fall apart, or collapse under pressure."
An Elusive Standard: 6 Minutes at 525o
In the past, food manufacturers had access to packaging that worked well at lower temperatures for longer cooking times. But there was no viable option that met the dual standard of being able to withstand 525o heat for six minutes. Typically, preparation requires a transfer of partially- or fully-cooked food from metal pans to other containers, risking quality or even contamination and adding significant time and labor.
Under the guidance of Chef Cullin-Woodcock, the Welbilt test kitchen got to work to address these issues. Working in collaboration, Welbilt provided the kitchens, equipment and culinary expertise of their chefs while HAVI led the packaging concept development, sourcing, engineering and brand development.
Collaboration Sparks Innovation
From conceptual spark to marketplace success, the end result of the collaboration represents the first performance packaging designed for accelerated cooking ovens. SIX500 products offer a fiber-based combination cooking vessel and serving dish, available in a range of shapes and sizes. Applicable both to volume production and bespoke preparation, they fuel cross-channel efficiency and creativity by:
Being first FDA compliant packaging to withstand 525° for up to six minutes
Reducing labor and tableware costs, food wastage and cross-contamination
Providing the ability to quickly serve guests after heating due to quick cooling
Eliminating the need to transfer food into multiple packaging containers
Unleashing opportunities to delight your customers with new and expanded menu options
See for Yourself at NRA
Ready to see SIX500 in action? Enjoy delicious freshly-prepared meals, cooked and served in HAVI's SIX500 in the Welbilt booth 3401/3601 at the 2019 National Restaurant Association (NRA) Show from May 18-21st. If you're looking to capitalize on the market for a fresher, faster, and food safe option, stop by the booth for a taste of what's cooking in packaging innovation.