Taking Inspiration From Our Most-Read Blog Posts of 2018
2019 Restaurant Marketing Predictions You Need to Know Now
The only thing harder than deciding where to go for dinner is being the marketer tasked with influencing the consumers choice of restaurant. Not only is competition fierce, but expectations for the restaurant experience are higher than ever before.
That's where HAVI comes in. Reading our blog can help you build and execute your marketing strategies. All year long we cover the most important industry trends, share our latest resources and feature original content from our subject matter experts via our video library.
We examined the numbers behind the blog to bring you our top five, most-read posts of 2018. These are the trends gaining momentum for the year ahead.
Attending events is a great way to stay on top of what's next in the restaurant industry. We were lucky enough to moderate a panel at IFMA's Presidents Conference last year, where we tackled how to build trusted global supply chains. Read our blog post for a recap of the discussion with an impressive group of panelists from Shake Shack, Chick-fil-A and DOT Foods.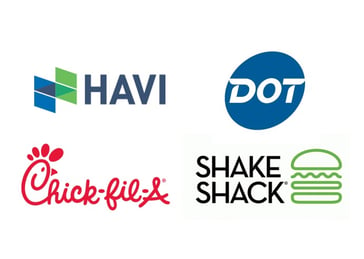 The key ingredient in a great restaurant-guest relationship? Trust. For environmentally conscious consumers, packaging is a big opportunity for brands to make a name for themselves. In this post, we talk about the emerging role of clean packaging in helping brands earn trust from consumers.
Number three on our list is one of our personal favorite posts of the year. In this one, we dive into personalized marketing, sometimes called 1:1 marketing. We cover everything from the origins of the strategy to the three huge benefits for restaurant marketers who do it well.
Delivery continues to be a huge game changer for today's restaurants looking to attract convenience-minded consumers. In this post, we talk about what's what and what's next when it comes to delivery. We also weigh in on what it really means for restaurant marketers.
Our most-read post of 2018 earns the title for a couple of reasons. First, creating an unforgettable guest experience is crucial in today's crowded restaurant industry. This topic resonates well with marketers looking to stand out. Second, in this post we give you eight ways that can create a memorable experience.
We are planning some great posts for this year to help you jump-start your marketing strategy. Be sure to check back here often for the latest from HAVI.